Member of the Alliance for Sustainable Aquaculture (ASA)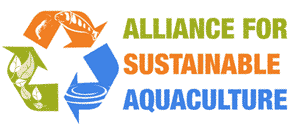 The ASA is a collaborative group of researchers, business owners, non-profit organizations and interested members of the public working to further Recirculating Aquaculture Systems (RAS) in the United States through research, education, legislative work and advocacy. We believe that RAS, closed-looped and biosecure aquaculture operations, are the best option to meet our country's need for a clean, green, sustainable, healthy seafood source to supplement our wild fisheries.
Bee Central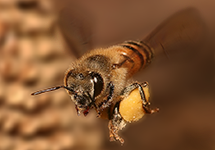 Honeybees are an integral part of the modern diet, worldwide. Without these amazing animals one-third of the food supply could not exist. Apples, cherries, citrus, squash, etc. etc. etc., are pollinated chiefly by honeybees. The worker bee is a social being that cannot exist without a queen bee, and the queen cannot exist without worker bees.

In May 2013, Lanikai Farms was honored to co-sponsor a dialogue between top experts from the U.S. and Japan. Research in many countries has proven bee colony collapse disorder (CCD) began worldwide around 2005 coinciding when a class of chemical pesticides commonly referred to as neonicitenoids, were first marketed. Please see the film "Messages from Bees" by the Yamada Bee Company.

Lanikai Farms' Lloyd Fischel was interviewed by Hawaii Public Radio concerning bees and the dangers of Colony Collapse Disorder. Listen to the Interview

We're figuring out how to improve bee strength as we learn and share healthy bee-keeping practices. At the turn of the 20th century Hawaii produced more honey than anywhere else, and today Hawaii is produces the most queen bees that are shipped worldwide.

We are working to insure the vitally important work of growing healthy bees continues into the distant future.

Library: The dangers of pesticides to pollinators.


"Messages From Bees", a courageous film produced by Yamada Bee Company indicating the dangers of pesticides to the honeybee. Film length: 57:37.

Humanity owes a debt of gratitude to the Yamada Corporation, led by its courageous president, Hideo Yamada, for this breakthrough documentary on the nature of Colony Collapse Disorder.
U.S. & Japan Expert Dialogue, Maui 2013. Film length: 43:06

Experts joined to gather on Maui, Hawaii to discuss ways to further strengthen bee hives to overcome the many stresses of living in modern civilization. The one hour video above, "What You Don't Know About Bees, Honey!" gives insight into the complexities of bees and their home - the hive. This important international dialogue about bees was made possible by the capable and forward-thinking staff at Akaku Television, Maui.

"What You Don't Know About Bees, Honey!" Roundtable Participants

Danielle Downy - Hawaii's Head of Apiary

Ken Hashimoto, Yamada Bee Company, Japan. With a commitment to improving bee health and protecting the environment, Hashimoto heads the Institute for Bee Products and Human Health. He graduated from Kyushu University with a doctoral degree in bioenergetics-photosynthetic bacteria (1981), and did search on mitochondria in Department of Pathology, Hahnemann University, Philadelphia USA, as a research associate and later a seminar scientist from 1981 to 1984. Hashimoto did drug-discovery research in Japan from 1984 to 2004 before joining Yamada and heading its' research division. He has designed and sponsored and funded dozens of research projects on honey bees, perhaps the greatest amount of financing put towards bees by private entities in the world, and a myriad of other humanistic endeavors in many countries including in Yamada Bee Company's home country, Japan.

Paul Apao - Owner, Maui Queen Bee Company

Robert Danka, Louisiana State University, Professor - current research involves breeding honey bees to enhance desirable economic characteristics, especially genetic resistance to the parasitic mites varroa destructor (varroa mites) and acarapis woodi (tracheal mites).

Tom Glenn, Glenn Apiaries is internationally recognized for expertise in rearing queen bees to select bees that are disease resistant as well as good honey producers.

LLoyd Fischel co-produced the international dialogue on bees and poisons in May 2013. "A single bee can not exist without the others in a healthy environment. To me, honeybees and their amazing skills and communication means represent what human beings must achieve; otherwise our bee-hive society will not survive while we destroy everything else. As man-made toxins are abolished from the food chain, more and more people will take the responsibility and grow healthy food."



The Cedar Solution

Cedar trees live thousands of years, because insects and mold do not like cedar oil. Rodents don't like cedar oil and they quickly leave nests behind never to return. Cedar kills bed-bugs, lice, fleas and mosquitoes. Cedar is safe for people and pets, and today, our home and farm is free of chemical poisons - and you can be too!

Safe and Natural pest control products using cedar oil are available for shipping nationwide from our new Cedar Pest Control site.

Professional application is also available on Maui for residential, commercial and restaurant locations.
Directions from Kahului:
Take the Hana Highway 36 East. A few miles past Paia, after mile marker 14, turn right onto Ulumalu Road.
Turn right at the second stop sign on Kaupakalua, (known as "Five Corners.")
At the first block turn left on Pakanu.
Follow the fork left onto Maluna Place.
First right onto Kapuai.
First left onto Koolau Road.
Turn left onto Lanikai Place.
Lanikai Farms #20.
Directions from Kula:
Head North on Kula Hwy.
At approx 6.9 miles Turn right on Makawao Ave, (second set of traffic lights from Kula)
Follow Makawao Avenue through Makawao, it will turn into Kaupakalua Rd.
At approx 3.6 Miles Turn right onto Pakanu Rd.
Follow the fork left onto Maluna Place.
First right onto Kapuai.
First left onto Koolau Road.
Turn left onto Lanikai Place.
Lanikai Farms #20.